F*&% the Prom Posters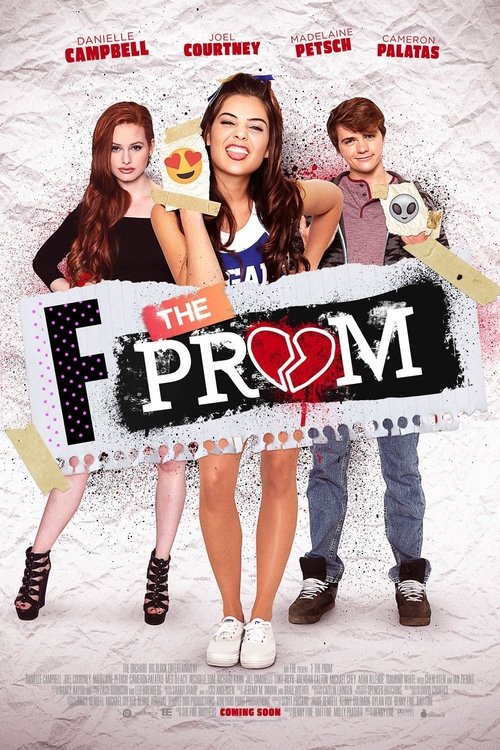 Photo Gallery
Had a great time at premiere!! Thanks @bren_calton for allowing me to be one of your dates?? Check it out Dec 5th, on iTunes and Amazon!!
Last night was a special night, one I️ will never forget. Seeing myself up on the big screen was a surreal moment... comes out Dec 5th On Demand and digital download (iTunes, Amazon, etc.). Thank you @fbe for allowing me to be a part of this project. And thank you to all my friends that came out to support @katieeburtonn @taylorkeene @sunnytellone @pattie_rizzo @sydneyscotia @kaytraparkman @caty_bastareaud @themusicalmushroom Truly grateful.
?The Great Gatsby?#otterpops #FtheProm #wrightbrothers #dynamite #kingdomhearts
few more pics from this fun night!! all my sweet friends!#ftheprom
yesterday held two very very special occasions. the premiere of with my family and a happy happy birthday to @dglambert so much love for all of you and for everyone who came out to support xoxo
Ian Ziering, Eric Balfour attends the premiere Of Orchard And Fine Brothers Entertainment's 'F*&% The Prom' at ArcLight Hollywood on November 29, 2017 in Hollywood, California. (Photos by Alberto E. Rodriguez/Getty Images) #HollywoodCiak #FTheProm #IanZiering #EricBalfour #premiere #redcarpet #photocall #Hollywood #California #followme
Smile + Like + Comment = Enjoy ❤ ↠ follow me (@madelaine.fp) for more!!
This group is one of the rare ones. We laughed everyday shooting this and cannot wait for you to see it. I love you guys ❤️ #ftheprom
✧ Did you know about it? . ↠ follow me (@madelaine.fp) for more!!
Glow up @madelame credits: @madelaine.fp #Repost @madelaine.fp #riverdale #riverdale2 #riverdaleedit #bettyandjughead #bettyandjughead #netflixandchill #netflixandchill #glowup #glowupchallenge #veronicalodge #archieandrews #kjapa #camilamendes #lilireinhart #madelainepetsch #madelame #riverdale #cherylblossom #cherylbombshell #ftheprom
Português?? Olá galerinha!! Estou muuito animada com o fc.Espero que vocês gostem.Irei trazer diariamente fotos [novas e antigas],curiosidades,notícias e etc sobre o meu amorzinho, @thedaniellecampbell ❥ Aproveitem? English?? Hey Guys??!! I'm very excited about this acc. I hope you enjoy it. I'll bring daily [new and old] photos, curiosities, news and more about my sweetheart, @thedaniellecampbell ❥ Enjoy it ? (I'm Brazilian, my English is basic, so I'm sorry for the mistakes, sometimes I use Google translator.) @thedaniellecampbell ♡ ||#daniellecampbell #theoriginals #davinaclaire #ftheprom
✧ Did you know about it? . ↠ follow me (@madelaine.fp) for more!!
✧ Did you know about it? . ↠ follow me (@madelaine.fp) for more!!
New #FTHEPROM still which comes out tonight at 12 eastern time on VOD
F*&% the Prom: Trailers and Videos
F The Prom (2017) | Official Trailer HD
F The PROM | New trailer for Madelaine Petsch \u0026 Danielle Campbell high school comedy
F*\u0026% THE PROM Trailer (2017) Teen Comedy, F The Prom Movie HD
SHOPPING FOR THE PREMIERE OF THE F THE PROM! +trailer out NOW // Jill Cimorelli
F the Prom - Official Trailer (2017) Madelaine Petsch, Danielle Campbell Comedy Movie HD
MORE K-POP REACT! \u0026 OUR FIRST MOVIE PREMIERE! | FBE Studio Life #22
F the Prom - Official Trailer - Madelaine Petsch, Danielle Campbell (2017) HD
'F The Prom' Premiere at The Arclight Hollywood
'F The Prom' Premiere at The Arclight Hollywood
F The Prom (Official Trailer) IM IN A MOVIE! // Jill Cimorelli
F The PROM | New trailer for Madelaine Petsch \u0026 Danielle Campbell high school comedy
You May Also Like