Photo Gallery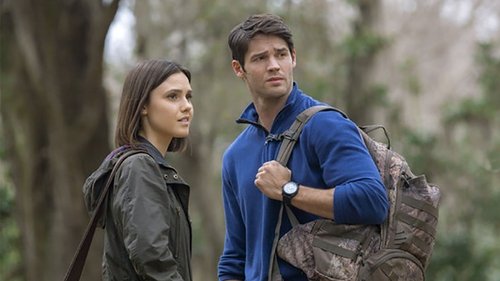 #Repost @ashleyashleyash with @get_repost ・・・ Guys! What a love this project has been. Check it out this weekend! So many people I love put their heart & soul into this project and it shows! @hallmarkchannel #homebyspring
#SpringFever continues this Saturday night with #HomebySpring! Don't miss our Facebook live with stars @steven_r_mcqueen and thereal_marymargarethumes TOMORROW at 3:00pm EST! What would you like to ask them?
A quick glance at our upcoming @hallmarkchannel film ???? Enjoy your weekend everyone!
#Repost @tiiuloigu ・・・ ADR with @steven_r_mcqueen today for @hallmarkchannel #march31
We're in full swing...or should we say Spring! Take a look at our all new #SpringFever original #HomebySpring premiering this SATURDAY at 9/8c!
Listen to the @shockleyfieldsmusic song "Home By Spring" in the @hallmarkchannel film Premieres March 31 YouTube link in bio. #newmusic
Raider watching intently at the screen and taking notes during #soundmix today for Premieres March 31st on @hallmarkchannel
Having way too much fun with #countrymusic super ⭐️ @kixbrooks in #vegas this weekend at the #brooksanddunn concert with @reba So excited to share the screen with him NEXT weekend on ... @hallmarkchannel Saturday March 31. #actorslife #behindthescenes #bootscootin #girlsjustwanthavefun
#repost @hallmarkchannel #Hallmarkies! Don't miss out Facebook live event with country star @kixbrooks! He's going to tell us all about his new #SpringFever original #HomebySpring! What would you like to ask him?
Awww I just saw this and it made me soooo happy and miss my old neighbor so much! Crazy how fast time flies. And Yes she was something Special? This Saturday 31st 9pm- @steven_r_mcqueen #timeflies#stevenrmcqueen #hesgettingmarried #truevampires #nosleep#homebyspring#oldneighbors#cantwaitforsaturday#imanerd
Listen for the @shockleyfieldsmusic songs "Home By Spring" and "Love In Springtime" in the @hallmarkchannel film #HomeBySpring Premieres this Saturday March 31 9pm ET 8pm CT 6pm PT
Talented..and having the times of their lives? So nice to see they all achieved major success in the Hollywood industry...and made seemingly smooth transitions into so many other amazing roles! ...Yay! Bravo!????? - #dawsonscreek #joshuajackson #katieholmes #jenlindley #jamesvanderbeek #paceywitter #joeypotter #dawsonleery #marymargarethumes #kerrsmith #michelleingridwilliams #johnwesleyshippjr #marybethpeil #capesideclarion
Steven McQueen was Live on Facebook for his new @hallmarkchannel movie #HomeBySpring • • @steven_r_mcqueen #stevenmcqueen #stevenrmcqueen #thevampirediaries #tvd #vampirediaries #jeremygilbert #chicagofire #jimmyborelli #hallmarkchannel #hallmark #teammcqueen #teamstevenmcqueen
Answer: playing Paul in "Home By Spring" which premieres on Hallmark this Saturday. Grateful to work with such great people including @thereal_marymargarethumes #grateful #filmmaking #premiere
Can you find me?! Tune in to the Hallmark Channel this Saturday at 8pm Central to see the World Premier of this new movie Home By Spring staring @poppy_drayton @steven_r_mcqueen @kixbrooks @thereal_marymargarethumes Don't forget to follow my Instagram and Twitter for behind the scenes images after the release! #HomeBySpring #Hallmark #SpringFever
Friday Vibes to get the weekend started courtesy of this #fbf ? of @brettyoungmusic performing at the @appalachianfair last year ?? Second pic is of @steven_r_mcqueen @erikdinardo and Brett. Steven will be starring in the @hallmarkchannel movie #HomeBySpring this weekend which will feature #InCaseYouDidntKnow #brettyoung #mercy #acmnewmalevocalistoftheyear #countrystar #countrymusic #countryradio #singer #songwriter #pleaserequest #byofc #hallmarkmovie #march31 #socool pic 1 by @kellichafin pic 2 by BYM
#Repost @williamshockley with @get_repost ・・・ Proud to feature the @brettyoungmusic song "In Case You Didn't Know" in our @hallmarkchannel film • Premieres Saturday March 31 • check local listing for time . . . . . #hallmarkchannel #tv #movie
Not often do I get the honor to photograph a casting director. Yesterday was one of those days and I am loving the pix I took with @tiiuloigu, who was so awesome to work with! Check out her latest movie #HomeBySpring tomorrow evening on the @hallmarkchannel #castingdirector #tiiuloigu #photoshoot #photographer #bjoernkommerell #celebrityphotographer #hollywood
Tune in to the @hallmarkchannel to see if you can find @deklankole in this Sat night March 31st at 8:00pm Central time! #hallmarkmovies #childactor #movies #satnight #goodtimes #livinthelife #??
#SpringFever continues this Saturday night with an all new original #HomebySpring! Celebrate by sharing one of your most memorable childhood Spring memories with us!
Home by Spring: Trailers and Videos
First Days of Spring // SHORT FILM
DIY Bird's Nest Spring Wreath
15 GREAT IDEAS TO DECORATE YOUR HOME FOR SPRING
17 CUTE DIY HOME SPRING DECOR IDEAS
Meeting players and INSANE BP ACTION at Spring Training -- Hohokam Stadium
HUGE HOME DECOR THRIFT HAUL // SPRING 2018
2018 Spring Training Home Runs | 3/26/18
Cast Interviews - Home by Spring: Steven on the Outdoors - Hallmark Channel
Behind the Scenes - Home by Spring - Hallmark Channel
Cast Interviews - Home by Spring: Poppy on Easter - Hallmark Channel
Home Bargains Haul | Spring 2018
MLB The Show 18 Franchise - SPRING TRAINING LIVE (HOME RUNS GALORE!) Ep.48
17 CUTE DIY HOME SPRING DECOR IDEAS
Cast Interviews - 'Home by Spring' Producer Eric Brooks - Hallmark Channel
WALMART *SPRING* SHOP WITH ME | NEW SPRING \u0026 SUMMER HOME DECOR
Spring Picks: Technology For Your Smart Home
Spring Home Decor Haul ~ For FREE 💐 Hello Spring? 🌷by The Frugalnista
Spring Home Tour 2018 Priscilla \u0026 Chelsea-The Real Housewives of Cross Stitch
Dollar Tree DIY ~ Wooden Carrot Easter Sign ~ Rustic Spring Home Decor
Cast Interviews - Home by Spring: Poppy on Spring in London - Hallmark Channel
Shop WITH ME HOMEGOODS KITCHENWARE LEMON SPRING SUMMER KITCHEN HOME IDEAS 2018
Cast Interviews - Home by Spring: Poppy on Easter - Hallmark Channel
15 GREAT IDEAS TO DECORATE YOUR HOME FOR SPRING
Dollar Tree DIY || 💕 2018 Spring Home Decor Ideas 💕
17 CUTE DIY HOME SPRING DECOR IDEAS