Photo Gallery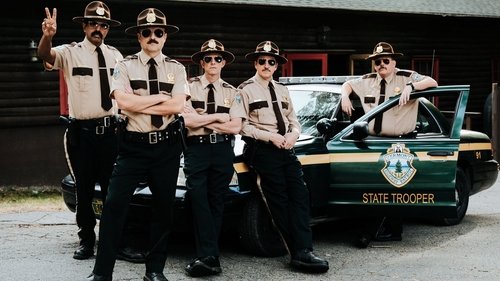 waited 3 years to get this.... and I couldn't be happier!!! we already have our tickets to see Supertroopers 2 when it comes out on 4/20... going to wear my shirt and maybe the stache too lol ❤️ #supertroopers #brokenlizard #420
Saw the first film and wasn't impressed. Going into this with an open mind though. Screening time! #SuperTroopers2
@robloweofficial touches more than your funny bone in #SuperTroopers2 possibly revisit the #SuperTroopers original for adjustment to @brokenlizard wickedness it made me laugh #Meow
Download Ramathorn and Rabbit's episode of the Adam Carolla Show RIGHT MEOW! Jay and Erik were hilarious on today's episode. Smoke up and get ready for Super Troopers 2 this Friday 4/20 #superTroopers2 @adamcarolla
Awesome things came in the mail today! My perks and merch for and #blueq #socks plus freebies from @blue_q
Plans for the evening. #supertroopers #wearelive
The last time I looked forward to a sequel this much it was The Empire Strikes Back. Hear my review this week on @rivet.radio. #supertroopers #supertroopers2
The 5 fingers of fury. hits theaters THIS FRIDAY.
Now seated for: SUPER TROOPERS 2 #SuperTroopers2 @jaychandrasekhar @alliedimchicago ?#AMovieGuy
The Mustache Rides, again! Go see #SuperTroopers2 in theaters on 4.20
I've waited a long time for this. @brokenlizard delivered right on time for the release of #thetimeismeow #indiegogo #brokenlizard #thorny #rabbit #ramrod #farva #literacola #foster #mac
#nofilter needed on this gorgeous plate of food. #getinmybelly #steaklover #heartbeets Friday's pictures are going to be ALL movie theater food ????? #420 so glad it's my rest day!!
So pumped for this! #420 #dontletmedown
Tonight's screening! Will I laugh... stay tuned! #comedy #screening #movie #moviereview
Wanna go to the movies on 4/20? We have 100 tickets for an exclusive screening of Super Troopers 2 at the Regal Cinemas in Las Vegas. RSVP-Click Here > supertroopers.cannabition.com @cannabition @wvapes_nv @wvapes @[email protected] #cannabiscommunity #meow
The time is MEOW! The boys are back - @supertroopers is in cinemas today - check out the awesome trailer below. You're welcome.
@ascensionbrewco is here!! #stonermovietrivia #taptakeover
#420 ready to celebrate the release of on Friday with my synthetic #grass
tomorrow! Catching up on the first one, as if I couldn't already quote every line.
Pretty sure this is an amputee secret, but rabbit from #supertroopers and is in the same club as me. #amputee #supertroopers #brokenlizard #amplife #oneleg #intheclub @stolhanske
Super Troopers 2: Trailers and Videos
Kevin Heffernan, Steve Lemme \u0026 Paul Soter On 'Super Troopers 2'
Highways are not a place to get high - Turo + Super Troopers 2
SUPER TROOPERS 2 Trailer EXTENDED (2018) Comedy Movie HD
SUPER TROOPERS 2 I 'Sorry' TV Commercial | FOX Searchlight
SUPER TROOPERS 2 I 'Back In Business' TV Commercial | FOX Searchlight
Super Troopers' Jay Chandrasekhar Got a Federal Prosecutor High on Willie Nelson's Bus
Bad Joke Telling | Super Troopers 2
Jay Chandrasekhar of Broken Lizard talks Super Troopers 1 and 2
SUPER TROOPERS 2 Trailer Deutsch German (2018)
SUPER TROOPERS 2 I 'Nightmare' TV Commercial | FOX Searchlight
'Super Troopers 2' Interview | Steve Lemme, Jay Chandrasekhar, Erik Stolhanske, Kevin Heffernan
Super Troopers cast - What it took to get Super Troopers 2 made
Super Troopers 2 Snozzberry Punch
Super Troopers 2 (2018) Primer Tráiler Oficial Español
Super Tips from the Cast of 'Super Troopers 2'
WWE Superstars vs. Super Troopers in dodgeball: WWE Game Night