ヒーローママ★リーグ Photo Gallery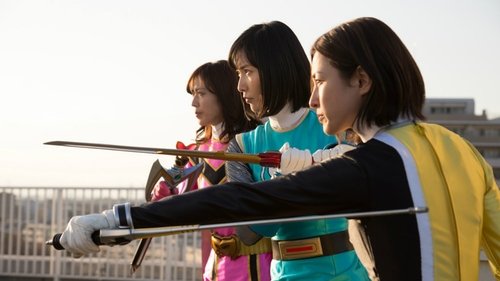 Hero Mama League... It will be showing by next week... This will be also a prequel of the upcoming #VCinext Of #KyurangerVsSpaceSquad ... #HeroMamaLeague #dekaranger #Hurricanger #Magiranger #SuperSentai
This brings me so much joy lol #supersentai #nanaminono #nononanami #hurricaneblue #ninpuusentaihurricaneger #hurricanger #jasminereimon #reimonjasmine #marikareimon #reimonmarika #marikajasminereimon #dekayellow #tokusousentaidekaranger #dekaranger #houkaozu #ozuhouka #magipink #mahousentaimagiranger #magiranger #supersentaireturn #sentaiheroine #mothers #sentaimothers #sentaiteamups
Mommas dat protec the world #supersentai #powerrangers #toku #tokusatsu #tokufans #spacesquad #tokumemes #toei #heromamaleague
Meet the enemy and they will face in both shows... His name is Space Ninja Demost. He came from the Dark star and He was imprisoned underground at Mount Kongo by Jiraiya's ancestor, but escapes from his prison as a result of the change in the Earth's crust caused by Jiraishin's resurrection. He obtains the Dark Sword (暗黒剣 Ankoku Ken), a laser blade equivalent to Jiraiya in terms of strength. His head can detach itself from the rest of his body and float in the air, as well as be restored after being destroyed once. He can attack and bind his enemies with electric shocks from his hands and his face, as well as read his opponent's mind. (Source Wikipedia) He is one of Jiriaya enemies but he was destroyed and now he is back in this era... What's the goal... We will find out? #KyurangerVsSpaceSquad #HeroMamaLeague #kyuranger #SpaceSquad #Hurricanger #Dekaranger #Magiranger #SpaceSquad #MetalHeroes #SuperSentai
Hero Mama League Spin-Off Trailer #スーパー戦隊 #SuperSentai #HeroMamaLeague #NinpuuSentaiHurricanger #TokusouSentaiDekaranger #MahouSentaiMagiranger #ShurikenSentaiNinninger
Okay alot is asking me... How is the "Hero Mama League" will be the prequel or a spin off in the kyuranger Vs. space squad ... As I research... It is said that Space Ninja Demosuto will appear on both shows... How is connected in his presence... We will find out... Hero Mama League will premier on May 13, 2018 while Kyuranger Vs. Space Squad will premier on June 30, 2018 on selective cinemas and Blu Ray DVD will be release on August 8, 2018 #KyurangerVsSpaceSquad #HeroMamaLeague #kyuranger #SpaceSquad #Hurricanger #Dekaranger #Magiranger #MetalHeroes #SuperSentai
#Repost @tokuanimegirl ・・・ Meet the enemy and they will face in both shows... His name is Space Ninja Demost. He came from the Dark star and He was imprisoned underground at Mount Kongo by Jiraiya's ancestor, but escapes from his prison as a result of the change in the Earth's crust caused by Jiraishin's resurrection. He obtains the Dark Sword (暗黒剣 Ankoku Ken), a laser blade equivalent to Jiraiya in terms of strength. His head can detach itself from the rest of his body and float in the air, as well as be restored after being destroyed once. He can attack and bind his enemies with electric shocks from his hands and his face, as well as read his opponent's mind. (Source Wikipedia) He is one of Jiriaya enemies but he was destroyed and now he is back in this era... What's the goal... We will find out? #KyurangerVsSpaceSquad #HeroMamaLeague #kyuranger #SpaceSquad #Hurricanger #Dekaranger #Magiranger #SpaceSquad #MetalHeroes #SuperSentai
#HeroMamaLeague
#repost @tokusatsu_korea I can't wait to see this!! #supersentailadies #heromamaleague
Hero Mama League!! Very interesting. #dekayellow #tokusousentaidekaranger #magipink #mahousentaimagiranger #ninpuusentaihurricanger #hurricaneblue #supersentai #tokusatsu #superherotime2004 #superherotime2005
Trailer Hero Mama League #HeroMamaLeague #SuperSentai #Dekaranger #Magiranger #Hurricanger #DekaYellow #AyumiKinoshita #HurricaneBlue #NaoNagasawa #MagiPink #AyumiBeppu #SpaceSquad #KyurangerVSSpaceSquad #Tokusatsu #SuperheroMAXID
Hero Mama League ? #magipink #hurricaneblue #dekayellow #heromamaleague
Toei announces the #HeroMamaLeague web special, starring Beppu Ayumi (Magi Pink) Nagasawa Nao (Hurricane Blue) and Kinoshita Ayumi (Deka Yellow)! The ladies don't seem to age, especially Nagasawa and Kinoshita. ?
Trailer Kyuranger Vs Space Squad, Hero Mama league terdiri dari MagiPink, HurricaneBlue dan DekaYellow Sc : http://ukiyaseed.weebly.com/ukiyaseeds-other-blog/kyuranger-vs-space-squad-hero-mama-league-trailer-streamed #Kyuranger #SpaceSquad #uchusentaikyuranger #sentai #supersentai
Hero Mama ★ League: Trailers and Videos
Fakta Tentang Super Sentai Hero Mama League 2018 New !!!! By BRAVE CHANNEL #1
MAMÃES DO TOKUSATSU [ヒーローママ★リーグ] | Senpuu LIVE Action
Mamás al rescate: Hero Mama League !!!!
Super Sentai Heroines Balance Action and Motherhood in 'Hero Mama League'
Super Sentai Heroines Balance Action and Motherhood in 'Hero Mama League'
TEASER Hero Mama League - Análise e Especulações
MAMÃES DO TOKUSATSU [ヒーローママ★リーグ] | Senpuu LIVE Action