Casa Orquídea Photo Gallery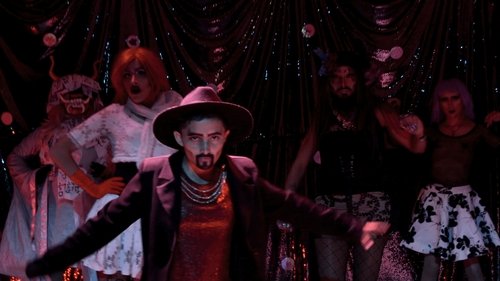 03/17/2018 - Category is: Fun. ~ Loved this day. I literally lived up to the name of this post. I love sharing with the family I've chosen, they're amazing human beings and I'm blessed to have them in my life. - pics by: @magvwart ~ ?
No filter bitches :v Obvio con filtro una se ve linda Love you sis #FishyQueen #Fish #DragQueenBogota #DragQueenModel #RedHair #RedHairQueen #LGBTIBogota #GayBogota #DragSisters #Mug #HausOfOrchids #CasaOrquidea
Life in plastic, is fantastic ??? ____________________________ #Drag #Dragqueen #Dragqueens #dragsbrasil #dragsbrasileiras #makeup #art #flowercrown #jasperblue #trixiemattel #kimchi
Just a normal day for a normal woman like me I had a terrible night after that photo shoot but nothing can change my pasion and love for my art Love #DragModel #DragQueen
2/3 da haus reunida!!! ____________________________ #drag #Dragqueen #drags #art #drags #dragsbrasileiras #dragsbrasil
So baby tell me yes And I will be all yours tonight #GayColombia #GayBogota #LatinGay #GayBoy #GayGuy #InstaGay #LittleMonster #TheCure #ButchQueen #CasaOrquidea #HausOfOrchids #QeenOutOfDrag
Coven meets freak show.?? #CasaOrquidea #HausOfOrchids
11/25/2017 - Irony. ~ The photoshoot we had was all about one thing and one thing only: Having fun. That was the only advice our photographer gave us, there wasn't anything else behind it; no looking flawless, no looking pretty, no hard modeling, just fun and joy. However my brain's an asshole. ~ Struggling with depressive and anxious tendencies is nothing new to me, but how ironic it is that depression and anxiety kicked in the day I was supposed to be happy and have fun. I woke up feeling like shit, I was over sensitive, I was holding back tears on my way to my Drag Mom's house, I was an emotional wreck. There you have it, the irony. ~ However, our photographer (and very close friend) advised me to just not pay attention to it, to remember that Drag is about having fun, it doesn't have to be perfect all the time; that today was a special day and we were doing it for the sake of it and the purpose of having fun, having a good time, and shake the stress out of our systems. ~ I got to learn that sometimes there's nothing standing in the way but yourself. Sometimes we just have to let go, let it be, let go off control. The best moments in life come unnoticed and are uncalled for. Today was an amazing day. Also, I'm getting closer to that aesthetic I'm aiming for, I'm building myself more and more. I'm soon to be complete (I guess). ~ ? ~ ? - @magvwart
Christmas is early this year Photo by @hernandotorobotero
Doing my thing on the runway at the @houseoftupamaras ball El primer ball en Bogotá y un honor haber participado junto con mis hermanas y fabulosas casas de Bogotá #DragQueenModel #BogotaQueen #BogotaBall
04/13/2018 - Enlightened. ~ Each time I do drag I get to discover and explore more of my drag persona and ultimately more of myself. ~ It's safe to say I've improved as an artist and as a person. This is not the end of it, just the beginning. I love my drag and I love myself. - ? @magvwart ~ ? ~ Ps: I also love my hairy arms.
11/10/2017 - La noche y Las Luciérnagas. ~ Just a couple more pictures I wanted to post from that day. I still look back to it and all the memories fill me with joy and happiness for doing what I do. I love doing drag. ~ ? ~ ? Credits to whom it may concern. ~ #Drag #Dragqueen #queer #gay #Instagay #Queen #beardqueen #beardedqueen #HausOfAnimalz #HausOfOrchids
12/02/2017 - Call her mother. ~ She's @ukumarikamikazy, the person I owe everything I am as a Drag Queen and as a Drag Artist. She was the one who took me under her wig (pun intended) and taught me everything she knew: make up, dressing, posing, walking (in heels), etc. Most importantly, she's taught me a lot of life itself. ~ What can I say? She's become one of the strongest pillars that hold my life altogether at the moment. She's my role model, inspiration, and referent for when I face difficult or challenging situations. She taught me not to give up but rather how to find a solution for everything. Just like any other mother would raise their children. ~ Dear mom, this has been a journey, and one of the best I've had so far. I've got to grow a lot as an artist and as a person. I'm glad we crossed roads and that life put us together so we could build a bond that goes beyond any show, gig, wig, lashes, lipstick and make up. We acquired a life lasting bond that I will try to keep until I die. From the bottom of my heart and every fiber of myself, I love you. Thank you for making me feel like I have a family, thank you for making me feel loved. ~ ? ~ ? - @magvwart
04/08/2018 - Ready and dressed. ~ This was supposed to be a look for a photoshoot I'm working on in company of a dear friend of mine, however, rain didn't let us meet ergo we couldn't make it. ~ Nevertheless this counts as an important day. One that I will remember and hold dear. Not only we got to advance in another project but I got to hear some meaningful words for my mother and I've got the stunning pictures you're seeing on this post. All of them taken by my favorite photographer/aunt/friend @magvwart ~ Everyday I'm more convinced this is what I wanna do for life, and I don't regret anything from this journey. ~ ?
Teenage witch. ?? #casaorquídea #HausOfOrchids
#TBT - Oh my Drag! ~ Needless to say @ohmydrag has been such a great experience and also a getaway for the growing drag scene here in Colombia. ~ This organization has given us the opportunity to meet our idols and watch stunning performances from fierce queens, but most importantly it has given us the opportunity to be ourselves and express our personality the way we want. ~ These pictures are from the two last OMD venues @ajathekween and @violetchachki (respectively). I'm thankful I had the chance to meet them both and feel their positive vibes and energy that's gives me the strength to pursue my dream and do what I love. ~ Drag, besides being and art form, is a lifestyle. I love what I do, I love what I live for. ~ ? ~ ? Credits to all Oh My Drag photographers.
10/11/2017 - La noche y las luciérnagas. ~ So many things happened that day, and it's been one of the crucial moments I've gone through in my Drag path of life. I had a revelation, I had a surprise, I outdid myself. ~ It may not be the best make up for some pro Queens, it's been the best makeup I've done so far. I had a lot of issues that day trying to achieve that makeup, my eyebrows were the hardest part to cover, you wouldn't believe how frustrated I was, then everything turned out more than well. My drag family was incredibly proud of myself and what I achieved that night, and I wouldn't believe it, I couldn't believe that my hands did that (btw, I still cannot believe it). ~ The highlight of the night was my mom @ukumarikamikazy hugging me from behind and telling me how proud she was of me, she said that she was starting to see a real queen, an original and unique one, she said she was staring to see Vulpè as she is. I wanted to cry so bad I had to focus with every inch of myself in not to cause otherwise I'd be a mascara mess on the stage (yes, we performed and it felt awesome). I will forever treasure that precious moment, I've never had somebody be proud of me (not even my real parents) and it couldn't have been better than having my drag mom stating on how proud I was making her. I will forever be thankful and happy for that moment. ~ That purple haired girl right there, that's my best friend, and I expect to share this journey with her all the way. I love her and I couldn't be any more happy of having her in my life. ~ ?
Pink Sugar XO's house - scamming customers to think she's successful and really owned by Strip Club bar owner Ron Szolack of Flight Club @huzaifa75
Just a normal day for a lady boy like me Labial de Jefree Star disponible en @benditaeresropayaccesorios Photo by: @magvwart #FishyQueen #DragQueenModel #GrungeGirl #Mug #DragQueenBogota #CasaOrquidea #HausOfOrchids #Pride #LGBTIBogota
DIVA UNIVERSALIS - A photography project lead by the amazing @magvwart. ~ More than just showing the impressive job of this awesome photographer, I want to express my thoughts on him. ~ He's part of the reason why Vulpè Davis is real. He's one inspiring person and somebody I can totally count on, and somebody who's always gonna be there in my darkest moments. ~ Matt, I've been always impressed at your job and the way you can immortalize precious moments through your lense. I'm grateful and thankful for being a part of such amazing project. Thank you so much for letting me pose for you. Here's to much more great pictures and projects to come. I love you ? ~ ? ~ #Drag #Dragqueen #queer #gay #Instagay #Queen #beardqueen #beardedqueen #HausOfAnimalz #HausOfOrchids #Instagay #queer #queerphotography #proud #photography
? THE HAUS OF ORCHIDS ? ____________________________ #Dragqueen #Dragqueens #drag #makeup #art #draw #drawing #drawings #Digital #digitalart #digitalartist #digitaldraw #digitaldrawing #digitaldrawings #dragsbr #dragsbrasil #dragsbrasileiras #hausoforchids
So do you have a lighter? Am I dancing sexy yet? I can't wait to make your body my own. ??? #HausOfOrchids #CasaOrquidea