Photo Gallery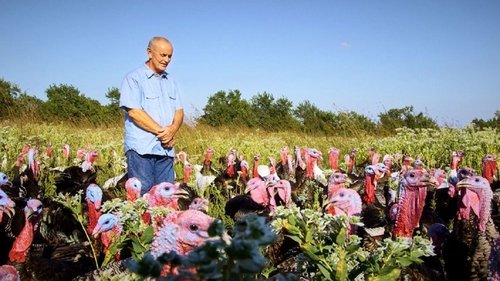 #EatingAnimals screening with this bunny ??? @sisterwifecompound! #losangeles #vegan #vegetarian #health #community #natalieportman #film #screening #macbeth #beard #moustache #facialhair #handlebar #carrot #melon
"Eating Animals" documentary panel talking about responsible farming. This is an eye-opening and important film. It opens in the Bay Area on June 29. Watch for it. #eatinganimals
Look forward to seeing this... #Repost @natalieportman ・・・ Watch the official trailer for #EatingAnimals, an urgent, eye-opening look at the environmental, economic, and public health consequences of factory farming. I couldn't be prouder to narrate and co-produce this thought-provoking documentary. See it in select theaters starting June 15. #natalieportman #mydreamisthatpeoplewillrealizethatfarmanimalsarenodifferentthantheirpets
Celebrating summer and the premiere of the acclaimed new documentary EATING ANIMALS. #yum #eatinganimals
Nilay. Studium kociej toalety. #sphynxstagram #sphynx #nakedcat #hairlesscat #hairless #canadiansphynx #eatinganimals#ilovesphynxcats #instacat #photooftheday #animalsphotography #instagood#cutecat #cuteanimals #love #mysweety #cutest#whitecat #whitesphynxe
Saturday movie marathon! #oslopix #vinterbrødre #mutafukaz #toppenavingenting
Be there or be square! @eatinganimals . . . #kendallsquare #vegan #glutenfree #glutenfreevegan #bostonvegan #gfvegan #highcarb #ethicalvegan #plantbased #plantpowered #poweredbyplants #plantstrong #vegansofig #vegancommunity #animallover #friendsnotfood #eatinganimalsisweird
NIL #sphynxstagram #sphynx #nakedcat #hairlesscat #hairless #canadiansphynx #eatinganimals#ilovesphynxcats #instacat #photooftheday #animalsphotography #instagood#cutecat #cuteanimals #love #mysweety #cutest#whitecat #whitesphynx
Seca! ??? https://www.mundopeliculas.tv/2018/06/07/eating-animals-el-potente-documental-de-natalie-portman/ #vegan #govegan?
This doc is amazing. #ifcfilms @sokittome
Farmers like Paul Willis are fighting to preserve old-school methods of American farming that are under constant threat by large corporations and the factory farms they employ. See his story in #EatingAnimals, opening in select theaters June 15.
If you don't hunt your dinner and the animal products that you buy come from factory farms, you should read this. This is not about being vegetarian or vegan. It's about your education, your awareness, and your freedom to choose. It's about an unsustainable, unhealthy, unethical, perverse system to satisfy a daily, but unnecessary, request of animal products. It's about what is in your plate for lunch and dinner, what you eat and eventually becomes part of yourself. It's also about respect. If you read this and you keep on feeding on factory-farmed animals, I will (try to) respect your choice...because at least it's a choice. • • • #jonathansafranfoer #factoryfarming #factoryfarms #beaware #foodeducation #beawareofwhatyoueat #slaughterhouse #animalslaughter #sustainability #sustainablelifestyle #consumeless #consumelessmeat #sustainablemeat #makeyourchoice #thinksustainable #ethicalchoices #healthylifestyle #healthychoices #actualdata #actualfacts
Thankful for important books, for dogsitting, for friends and family and my boyfriend, for pecan pie, and for you, bookstagram. Hope you had a great Thanksgiving, readers!
#Repost @eatinganimals ・・・ @NataliePortman exposes the shocking truth behind big food corporations and their disregard for animal welfare in #EatingAnimals, opening in select theaters June 15.
#Repost @eatinganimals with @get_repost ・・・ WATCH the official trailer for #EatingAnimals, an urgent, eye-opening look at the environmental, economic, and public health consequences of factory farming. Based on the bestselling book by Jonathan Safran Foer and narrated by co-producer @natalieportman, don't miss this thought-provoking documentary in select theaters June 15.
Łabędzia szyja Pana Peszelka #swan'sneck #pipe #sphynxstagram #sphynx #nakedcat #hairlesscat #hairless #canadiansphynx #eatinganimals#ilovesphynxcats #instacat #photooftheday #animalsphotography #instagood#cutecat #cuteanimals #love #mysweety #cutest#whitecat #whitesphynx #sphynxismyworld#nude#nudecat
Eating Animals ?. June 15, in ?. ? Directed by Christopher Dillon Quinn. With Natalie Portman - Narrator #Documentary #Movie #Pictures #Theaters #EatingAnimals
#EatingAnimals #2017 #Documentary #Filmmaker #ChristopherDillon examines the environmental, economic and public health consequences of factory farming. Topics include animal rights, pollution and the use of antibiotics and hormones. #Initialrelease: #June #15, #2018 #Narrator: #NataliePortman #Cast: #NataliePortman Natalie Portman credits "Eating Animals," Jonathan Safran Foer's book about the moral and environment implications of factory farming, for converting her to veganism. The Jericho-raised actress has no illusions, though, that her new documentary version of Foer's book will convert #Director: #ChristopherQuinn #Producer: #ChristopherQuinn, #NataliePortman, #JonathanSafranFoer #Cinematographer: #MottHupfel #Editor: #MaryLampson, #GeoffreyRichman #Music: #DanielHart
Yummy breakfast ??? #animals #adorable #hamster #hamstergram #pet #petco #hamsternations #petsofinstagram #petstagram #adorable_animals #house #sleep #wheel #instahamsters #instahamster #instaanimal #instaanimals #animalovers #animallovers #fluffy #fat #chubby #ham #hamham #hamster #eat #dinner #mexican #9gag #9gagpets
@ifcfilms @eatinganimals shares the hopeful stories of farmers like (our poultry farmer) Frank Reese, Jr. who raise animals respectfully in admiration of the American deam. Don't miss this powerful documentary narrated by co-producer @natalieportman in select theaters June 15. #heritagebreed #heritageturkey
EATING ANIMALS opens tomorrow Fri Jun 15! Both shows with Natalie Portman (producer/narrator) in-person for Q&As on Friday and Saturday now SOLD OUT! Directed by Christopher Dillon Quinn and adapted by Jonathan Safran Foer's book of the same title, EATING ANIMALS exposes the big agriculture system in America which has given rise to massive industrial complexes around farming, producing a seemingly endless supply of "cheap" meats, eggs, and dairy – but what's the true cost of such widespread change? #agriculture #farming #cheapeats @ifcfilms @natalieportman
I made a vegan milkshake and I read this book. It was excellent, but be warned it is quite confronting. I think it's important to educate ourselves about where our food comes from, and its ethical implications. This is a great resource to make a start. Highly recommend.
I always love reading news like this. Especially when it's a well know celebrity, because we all know that when people who are in the spotlight acknowledge the importance of such things as #animalabuse and and how important it is to stop this behavior...people Will take notice. That's how #change happens. We must be a #voiceforthevoiceless and #bethechange If not now, when? If you still eat animals then you love pets, not animals. Let's be honest. #realtalk #facethetruth #goveganfortheanimals??????????????? #thankyou
New York, Chinatown Mai 2018 . . . . . #newyork #chinatown #reportage #reportagephotography #doku #femalephotographer #kodak #kodakportra400 #analog #analogisnotdead #analogphotography #animals #sad #portrait #portaitmood #portraitpage #fish #vegan #thatswhy #prison #cruel #notbeautiful #restaurant #china
?. #vegansiumei #vegandimsum #veganbuyout for #eatinganimals. #healthylifestyle #nomeat #vegan #NataliePortman.
Can food truly be fit for humans if the animals we consume are treated inhumanely? Based on the bestselling book by Jonathan Safran Foer and narrated by co-producer @natalieportman, #EatingAnimals opens in select theaters THIS FRIDAY [tickets link in bio]
eating animals - natalie portmans new movie / to all them meat eaters - go watch her lil segment on first we feast #streetsofvienna #wienvegan #wienliebe #wienisst #wienstagram #instavienna # #vienna #mylove #viennanow #glutenfree #glutenfreevegan #? #veganuniverse #vegetarisch #vegetarischegerichte #vegansofvienna #veganaf #viennaonly #veganfoodlovers #wienblogger #veganvienna #veganeswien #veganvibes #firstwefeast #natalieportman #eatinganimals
Interviews with acclaimed author Jonathan Safran Foer and director Christopher Quinn on the state of industrial farming and their new documentary film "Eating Animals." The film narrated by actress Natalie Portman is based on the best selling book "Eating Animals." - opening in movie theaters June 15 Link to podcast in profile link #eatinganimalsmovie #eatinganimalsdoc #jonathansafranfoer #natalieportman #christopherquinn #industrialfarming #environment #animalwelfare #peta #animalsabove #pollution #vegan #plantbased #plantbased #ordinaryvegan
Real American farming is about supporting each other in order to produce the very best. See how farmers like Frank Reese are working every day to make us happier and healthier in #EatingAnimals, in select theaters THIS FRIDAY [tickets link in bio]
Eating Animals: Trailers and Videos
Learn Colors With Ice Cream Eating Animals And Learn Animals Name and Sound- Learning Video for Kids
Learn Wild Animals for Kids at Zoo Park Eating Food | Animals Train Videos for Children Rhymes Song
WHAT'S THE DIFFERENCE BETWEEN EATING PLANTS AND EATING ANIMALS?
Should I Be Eating Animals?
Learn Colors with Animals Puppy Eat Chili Pepper Color | Johny Yes Papa for Children #n
Cambodian YouTubers Skin and Eat ENDANGERED ANIMALS! | What's Trending Now!
Eating Animals (2018) A Documentary Movie Official Trailer [HD] Natalie Portman
Learn Colors with Cats eat Fish For Kids #y |Colours Animals For Children
Let's Chat | Feeling Conflicted About Eating Meat (trigger warning)
Learn Colors With Colorful Wild Animals - Animals Eating Apple And Changing Color - Video For Kids.
Meat Eating \u0026 False Energy
Bats Eating Snacks | Party Animals
Looking For The Right Subjects In 'Eating Animals'
Learn Colors \u0026 Animals Pets eats Fruits and Vegetables Cartoon for Kids \u0026 Children
Learn Colors - Farm Animals With Gorilla Eating Banana and Changing Color - For Kids
Natalie Portman Pirouettes in Pain While Eating Spicy Wings | Hot Ones
Learn Colors - Farm Animals With Gorilla Eating Banana and Changing Color - For Kids