Photo Gallery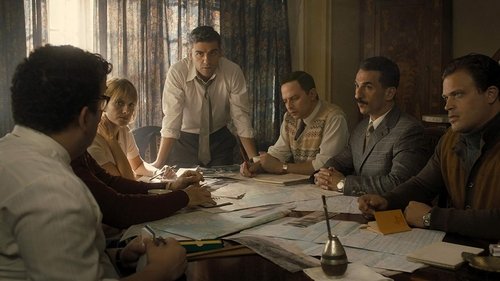 Happy Oscar Filming autographs ?#oscarisaac #twofacesofjanuary #rydalkeener #starwars #poedameron #insidellewyndavis #llewyndavis #amostviolentyear #abelmorales #ensabahnur #xmenapocalypse #laurentleclaire #insecret #mikaelboghosian #thepromise #actor #bluejones #suckerpunch #annihilation #kane #movie #lifeItself #apocalypse #triplefrontier #petermalkin #glasses
#Repost @poedameron12 ・・・ Happy Oscar ??❤️ #oscarisaac #twofacesofjanuary #rydalkeener #starwars #poedameron #abelmorales #insidellewyndavis #llewyndavis #amostviolentyear #ensabahnur #xmenapocalypse #laurentleclaire #insecret #mikaelboghosian #thepromise #actor #bluejones #suckerpunch #agora #orestes #annihilation #kane #lifeItself #petermalkin #smile #happy
Starts Wednesday Aug 29 (? Advance Shows: Tues 8/28 @ 7:45pm): Chris Weitz's OPERATION FINALE ? | ? Mossad agent Peter Malkin (Oscar Isaac) embarks on a covert mission to Argentina in 1960 to track down Adolf Eichmann (Sir Ben Kingsley), the Nazi officer who masterminded the transportation logistics that brought millions of innocent Jews to their deaths in concentration camps. _____________ @operationfinale @annapurnapics . . . #paulweitz #ww2 #adolfeichmann #truestory #oscarisaac #benkingsley #melanielaurent #argentina #germany #nyclife #soho #labordayweekend #mossad #vengeance #aug29 #nazi #petermalkin #??
Operation Finale 2018 Theatrical Release Poster Directed By Chris Weitz Produced By Fred Berger, Oscar Isaac, Brian Kavanaugh-Jones & Jason Spire Written By Matthew Orton Starring: Oscar Isaac, Ben Kingsley, Mélanie Laurent, Lior Raz & Nick Kroll & Haley Lu Richardson Music By Alexandre Desplat Music Supervisor By Steven Gizichi #chrisweitz #oscarisaac #benkingsley #melanielaurent #nickkroll #haleylurichardson #alexandredesplat
"The eyes chico, they never lie" . . . . . . #OperationFinale #Visualizando
Here for the #screening for @operationfinale #atlantascreening @empire22ent
CLAY'S COMING SOON: OPERATION FINALE COMING TO THEATERS: FRIDAY, AUGUST 29, 2018 PLOT: The hunt for Adolf Eichmann after WWII by a Mossad agent. SUMMARY: Weitz and writer Matthew Orton have done well by this chapter of modern Jewish history, even if they occasionally steer too hard into melodramatic Hollywood espionage thriller clichés. Still, the reason the movie works as well as it does is its two stars: Oscar Isaac and Ben Kingsley. The white-knuckle mission to capture and extract Eichmann is the centerpiece of Operation Finale. And it unspools in predictably unpredictable spy-movie fashion. Everything that can go wrong does; each escape is narrower and hairier than the one that preceded it. http://bit.ly/2waVEgA FROM: ENTERTAINMENT WEEKLY Weitz and Orton mean to question the individual's role in a mass atrocity, but the abstract nature of their ideas never squares with the rigidity of their storytelling. As a result, Operation Finale doesn't feel ambiguous so much as it feels like it lacks a point of view. IndieWire David Ehrlich #clayscomingsoon #previews #preview #comingsoon #moviepreview #movie #movies #film #films #cinema #instamovie #instamovies #augustmovies #august #august2018 #2018 #newmovies #benkingsley #oscarisaac #AdolfEichmann #nazi #nazis #adolfhitler #wwII #ww2 POPULARITY: #147 UP! 64
@operationfinale Reviewing tonight! #operationfinale
Based on the incredible true story. Oscar Isaac and Ben Kingsley star in #OperationFinale. Watch the trailer now – in theaters this Fall.
Excited to go see a screening of #OperationFinale tonight!! #OscarIsaac in a #ww2 era Movie about bringing Nazis to justice that's based on a true story sounds like a can't miss film!! #movies #comingsoon
"If you needed any further proof that Isaac is a bond fide movie star, you'll find it here," says @entertainmentweekly of #OscarIsaac #PrincessGraceAwardwinner's performance in the new thriller @operationfinale - available everywhere tomorrow! #OperationFinale #film #movie
After WWII, Hitler's deadliest lieutenant escaped and his capture was just the beginning. #OperationFinale opens tomorrow at Silverspot!
The darkest secrets will be brought into the light. Don't miss #JoeAlwyn in #OperationFinale, coming to theaters August 29.
Now watching: Operation Finale. @operationfinale #OperationFinale #OscarIsaac #BenKingsley #LiorRaz #MelanieLaurent #NickKroll #JoeAlwyn #HaleyLuRichardson #MichaelAronov #PeterStrauss
#OperationFinale makes our 1st movie for Week 4 of the #AMCStubsAList experience... bonus points for being out of town in another state! #Seattle
The cast and filmmakers reunite to celebrate the World Premiere of #OperationFinale. Witness the hunt for Hitler's deadliest lieutenant in theaters August 29.
Our review of "Operation Finale" can be read on NextBestPicture.com (Link in Bio)
The road to justice is never simple. Don't miss the mission that changed the course of history. @operationfinale is in theatres tomorrow. Get your tickets now. #OperationFinale #GalaxyTheatres #theatre #movies #movienight #OperationFinaleMovie #ChrisWeitz #drama #thriller #historicaldrama #OscarIsaac #BenKingsley #NickKroll #GalaxyCommunity #GalaxyExperience
#BenKingsley is outstanding in what critics are calling "a cinematic achievement." #OperationFinale is in theaters TOMORROW. Get tickets now – link in bio.
Based on the incredible true story, OPERATION FINALE "will leave you speechless." Grab tickets now! Advance screenings start tonight. #movie #movies #movienight #tomorrow #comingsoon #operationfinalefilm #operationfinalemovie #benkingsley #Oscarisaac #film #cinema #cinephile
Operation Finale: Trailers and Videos
Chris Weitz \u0026 Nick Kroll Talk 'Operation Finale'
'Operation Finale' Discussion: Eichmann and the Pursuit of Justice
OPERATION FINALE | 'My Name Is Eichmann' Clip | MGM
OPERATION FINALE - HALEY LU RICHARDSON \u0026 JOE ALWYN INTERVIEW
Sir Ben Kingsley on how Elie Wiesel fueled his 'Operation Finale' performance
Operation Finale (MGM Pictures) B-ROLL #1
OPERATION FINALE Trailer 2 NEW (2018) - Oscar Isaac, Ben Kingsley Historical Thriller
Mossad Agent Helps Keep 'Operation Finale' Movie Honest
OPERATION FINALE Official Trailer #2 (2018) Oscar Isaac, Ben Kingsley Movie HD
OPERATION FINALE Final Trailer (2018) Ben Kingsley, Oscar Isaac WW2 Hitler Movie HD
OPERATION FINALE Clip - I'm In (2018) Oscar Isaac
'Operation Finale' Discussion: Eichmann and the Pursuit of Justice
Operation Finale Movie Clip - I'm In (2018) | Movieclips Coming Soon
Operation Finale Q\u0026A Clip
Operation Finale: Sit Down with the Stars feat. Leila Sbitani – Regal Cinemas [HD]
Nick Kroll In Operation Finale
OPERATION FINALE | On-set visit with Mélanie Laurent 'Hanna'
Operation Finale Movie Clip - Extraction (2018) | Movieclips Coming Soon
My Review of 'OPERATION FINALE' | An Important Film
Hollywood Happenings: Sir Ben Kingsley talks Operation Finale
Sir Ben Kingsley on Operation Finale and the Proper Way to Play a Monster
Haley Lu Richardson \u0026 Joe Alwyn Interview "Operation Finale"
OPERATION FINALE (2018) | Behind the Scenes of History Movie
'Operation Finale' Cast on Why This Story Was Worth Taking Big Career Risks