Photo Gallery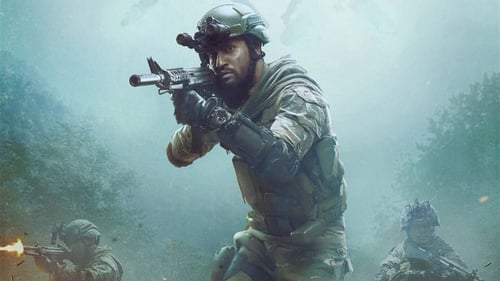 @merainna Mohit in episode of KV Sammelan #mohitraina #urithesurgicalstrike
Watch Vicky Kaushal Sweating It Hard For 'URI: The Surgical Strike'!!? Check the Blog link in the Bio!! #VickyKaushal #URI  #URITheSurgicalStrike  #Bollywood #UpComingMovie #Army #ArmyOfficer  #IndianArmy  #MajorVihaanSinghShergill  #RSVP #11January2019  #Entnetwrk @vickykaushal09 @vickykaushal_universe @vickykaushal09_ @vickykaushalrocks @entnetwrk
#jukebox out now! *LINK IN BIO* #challa #howsthejosh Releasing on 11th January. @shashwatology @adityadharfilms @kumaarofficial @rsvpmovies @zeemusiccompany @vivekhariharan @vickykaushal09 @yamigautam @shrutitwisp @shadabrayeen
Today's episode of #kanpurwalekhuranas was so special because this episode is specially dedicated to Indian Army.... There was the cast of #urithesurgicalstrike.... My father is also in Indian Army and I am a proud daughter of an Indian Soldier? ✨✨✨✨ Salute to Indian Army????????? @whosunilgrover @vickykaushal09 @yamigautam @iampareshrawal
Ignite the pride and spirit of pride and patriotism my salute to URI team and Real heros of Indian army. . Jagga jiteya te milan badhaaiyan Jagga jiteya!!! I have thoroughly enjoyed singing this beautiful song. Hope you enjoy too. . . @RSVPMovies @vickykaushal09 @yamigautam @zeemusiccompany @adityadharfilms #PareshRawal @shashwatology #URITheSurgicalStrike
Team #Uri promoting the film in Full Josh. #VickyKaushal #YamiGautam #PareshRawal #MohitRaina #AdityaDhar #URITheSurgicalStrike #Bollywood #BollywoodFolks #BollywoodStars #BollywoodCelebs #BollywoodCelebrity #celebs #fashion #style #bollywoodactors #moviepromotions
@vickykaushal09 and @yamigautam today for promotions of URI♥♥♥ #vickykaushal #vickykaushalfans #yamigautam #uripromotions #uri #bollywoodfansforever @vickykaushalrocks @vicky_kaushal_forever @vickykaushal_09_ @vickykaushal.fb @vickeykaushalfcb
Just 4 days left for #UriTheSurgicalStrike ???? #VickyKaushal
Love love love ????♥♥♥♥@vickykaushal09 ♥♥♥♥styled by the beautiful @amandeepkaur87 ♥♥♥#vickykaushal #vickykaushalfans#amandeepkaur #uri #uripromotions #bollywood #bollywoodfansforever
The Maroon Beret! @vickykaushal09 3 Days to go! ?? #art #illustration #sketch #digitalart #artist #uri #vickykaushal #actor #paramilitary #urithesurgicalstrike
.. #VickyKaushal and #YamiGautam arrive at the special screening of #UriTheSurgicalStrike. .. فيكي كوشال ويامي غوتام يصلون للعرض الخاص لفيلمهم أوري. .. @vickykaushal09 #vickykaushal #vickyfans #love# #uri #4daystogo #raazi #sanju
@vickykaushal09 #urithesurgicalstrike
@yamigautam Comfortably sunny today in the capital ??❄ 2days to go for #URITheSurgicalStrike #uripromotions #cute #prettier #smile #beautiful #sunshine #dimples #queen #style #hair #makeup #dress #outfit #lips #lipstick #eyes #igers #fashion #glam #selfie #selfiequeen #dimplegirl #natural #beauty #yamigautam ???
This talent house @yamigautam !! Shining beauty @yamigautam seen here in our beige knit trench from AW 2018 Styled by none other than my dream team @teammrstyles @mohitrai❤️ #uripromotions #mohitrai #yamigautam #yamigautamfan #winterfashion #winter2018
There you go guys.... completed the challenge @vickykaushal09
Bollywood actress Yami Gautam during a promotional event for her upcoming film Uri: The Surgical Strike in New Delhi. (PTI) . . . . . . #zeenews #india #bollywood #movies #actress #mumbai #mahrastra #delhi #newdelhi #yamigautam #vickykaushal #bollywoodmovies #bollywoodactress #promotion #uri #surgicalstrike #hindustan #pareshrawal #army #indianarmy @yamigautam
#VickyKaushal and #YamiGautam at the special screening of #UriTheSurgicalStrike
there you go guys.... completed the challenge @vickykaushal09 @yamigautam @vickykaushalrocks #vickykaushal #yamigautam
Gorgeous @yamigautam at #uripromotions #uri #vickykaushal #yamigautam #bollywood #indianbeauty #beautyqueen #fashion #indiancouture #model #magazine #celebrityclubofficial #bollywooddance #bollywoodmemes #bollywoodsongs #bollywoodstylefile #bollywoodstars #bollywoodmovie #india #indianphotography #mumbai #delhi #delhifashionblogger #pinkvilla #filmygyan #filmy #filmfare
Flipping over ??‍♀️?: @natashanayar1 ? : @mohitrai / @harshitadaga01 #hairgaragebynatasha #hair #makeup #promotions
#Repost @vickykaushal09 with @download_repost ・・・ Throwback to those late night training sessions for #UriTheSurgicalStrike ... gaining 15kgs of muscle weight wasn't an easy task for this ectomorph... a big shout out to my dear 'jallaad' trainer @rakeshudiyar and his team @amol_kyatam and Mangesh for constantly making me sweat, scream and cry so that I could reach my goals. #HowIsTheJosh ????
#Repost @rakeshudiyar • • • • • Workout with @vickykaushal09 ?️‍♀️??‍♂️?️‍♀️??‍♂️ #myteam @amol_kyatam ??‍♂️??‍♂️??‍♂️ @rsvpmovies @adityadharfilms @soniyeah22 @urithefilm #vickykaushal #bollywood #stayfitwithrakesh #bodytransformation #bodybuilding #actionsspeaklouderthanwords #workspeaksforitself #motivation #photooftheday #instagood #SEOTips #GetHealthy #Runners #AmyFitness #AmyArmy #squadgoals #trainhardorgohome #urithesurgicalstrike
THE SURGICAL ROASTER @carryminati as @vickykaushal09 - Releasing Today, Go and Watch. . . . . . . #mrunknown #ignoretags #carryminati #ayecarry #carry #ajeynagar #ayerupali #angryprash #angryarmy #angryprashfan #angryprashmeme @carryminatii.fc #ashishchanchlani #harshbeniwal #ashishchanchlanivines #bhuvanbam #bbkivines #bhuvanbam22 #mnsquad #mumbaikarnikhil @rsvpmovies #angryarmyzindabad #bollywood #movie #poster #bollywoodmovies #vickykaushal
#Filmy Friday #URI The Surgical Strike #11th January #2019 #releasingtoday #bollywoodmovie #vickykaushal #pareshrawal #yamigautam #kirtikulhari #urithesurgicalstrike
#uri #bollywood #11thjan #hero #army #loveyourself #best#indiayoutubeclick #atalbiharivajpayee #india #model #god #atalji #atalbihari #newyork #election #bharatratan #indian #legend #atal #sabkasathsabkavikas #pictureoftheday #indianarmy #followforfollowback #wearethechampions #photooftheda #merrychristmas #christmastree
Follow @indiaforumsbollywood for all the latest bollywood updates. • • Vicky Kaushal does a surgical strike on #Bollywood @vickykaushal09 : How's the Josh? @karanjohar @ranveersingh @ektaravikapoor #RanbirKapoor @ayushmannk @itsrohitshetty @aliaabhatt @varundvn @sidmalhotra @rajkummar_rao @bhumipednekar : HIGH SIR!! #URITheSurgicalStrike TOMORROW!!
#Repost @vickykaushal09 (@get_repost) ・・・ From us to you. Releasing tomorrow! #URITheSurgicalStrike #11thJan2019 "HOW'S THE JOSH!?" ??❤️?
In sabka josh? Super HIGH hai! #UriTheSurgicalStrike @vickykaushal09 @bhumipednekar @ranveersingh @ayushmannk @karanjohar @aliaabhatt @sidmalhotra @varundvn #RanbirKapoor @rajkummar_rao @ektaravikapoor @itsrohitshett @ashwinyiyertiwari #RonnieScrewvala
#AgencyLife - Some would say this is one of the biggest activations this year, haters would flag this as a paid gig. Magar hum kare toh kare kya, bole toh bole kya? Waah Modi Ji Waah! #URITheSurgicalStrike
Bollywood stars ? arrived at Delhi airport to meet Prime Minister Mr. Narendra Modi and after that they are promoting Uri The Surgical Strike movie releasing tomorrow #narendramodi #aliabhatt #ektakapoor #varundhawan #ranveersingh #ayushmaankhurana #rajkumarrao #bhumipednekar #karanjohar #Ranbirkapoor #rohitshetty #sidharthmalhotra #vickykaushal #instadaily #luvuzindagi?
Uri: The Surgical Strike: Trailers and Videos
URI - The Surgical Strike | Audio Jukebox | Vicky Kaushal \u0026 Yami Gautam| Shashwat S \u0026 Aditya D
Pakistan Army, Lashkar actively planning major surgical strike on India
URI : The Surgical Strike | Official Trailer
URI | A Striking Announcement By Yami Gautam | Vicky Kaushal | Aditya Dhar | 11th Jan
URI | Strike 2 - Stealth Mode | Vicky K, Yami G, Paresh R | Aditya Dhar | 11th Jan 2019
URI | the surgical strike | trailer 👍👌👌
Interview with Director Aditya Dhar for Uri: The Surgical Strike
Vicky Kaushal and Yami Gautam | Uri: The Surgical Strike | The Complete Interview
Uri - The surgical strike || Hum hain Hindustan song || Whatsapp status ||
Vicky Kaushal EXCLUSIVE Full Interview on URI, Surgical Strike, Indian Armed Forces \u0026 Takht
URI - Surgical Strike - 11th Jan 2019
Uri: The Surgical Strike । Vicky Kaushal and Yami Gautam talks about the film (BBC Hindi)
URI | Strike 1 - Night Vision | Vicky K, Yami G, Paresh R | Aditya Dhar | 11th Jan 2019
Vicky Kaushal Plays PUBG for the first time with Carryminati | URI: The Surgical Strike
Leadership Skills Helped Me Conduct URI: The Surgical Strike | Lt. Gen. RR Nimbhorkar | Josh Talks
URI - The Surgical Strike | HONEST REVIEW | Yami Gautam, Vicky Kaushal
Uri Film Review | Uri The Surgical Strike | Vicky Kaushal | Paresh Rawal | Mohit Raina | Yami
सच्चाई के कितनी करीब है फिल्म 'Uri: The Surgical Strike, जानिए वि&#2
URI | Surgical Interrogation With Yami Gautam | Vicky Kaushal | Aditya Dhar | 11th January
URI | Strike 4: Revenge | Vicky Kaushal, Yami Gautam | Aditya Dhar | 11th Jan
URI | Surgical Interrogation With Vicky Kaushal | Yami Gautam | Aditya Dhar | 11th January
Watch The Film Review of 'Uri: The Surgical Strike' | The Quint
URI: The Surgical Strike Special Screening For Bollywood Celebs