Photo Gallery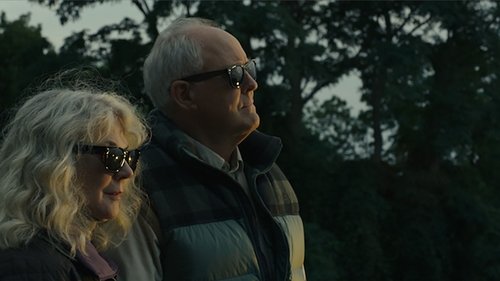 Always smiling when @davisfilms is behind camera ❤ #tinygrip #gripcitygamblersleague #standin #cheesin #missingthis #setlife
"I'm tiny grip" it really shows when I stand next to John Lithgow! What an amazing project ❤ #ttm #gripcitygamblersleague #tinygrip #lifeonlocation #thatsawrap
When you've worked out, you're at the store getting groceries and channel 13 calls you and wants to interview you about the movie ? you're part of! Eeekkkk! You rush home. Leave the groceries in the car. And you get ready in 25 minutes.....
The Tomorrow Man Starring John Lithgow and Blythe Danner #johnlithgow #instagram #blythedanner #trending #thirdrockfromthesun #Sundance #themoviereelchannel
I'll be on a panel at #sundancefilmfestival on 28th January while I'm up there for premiere of my new film, chatting about composing. Tickets are free, but limited. #film #music #soundtrack #composer #thetomorrowman
I'm lucky to have been Makeup Department Head on THREE amazing projects heading to Sundance this year. • The first I want to brag about is The Tomorrow Man. It was such a special film to make with an amazing cast and a crew full of friends. We had such a great time in Rochester, NY. Can't wait to see this one ❤️. • Makeup Dept Head: @wilde_makeup Asst Makeup: @lolabuniii Dept Head Hair: @kaitmatlock Costume Designer: @kerryboone • #sundance #featurefilm #makeupdepartment #johnlithgow #blythedanner #rochester #makeupartist
The poster for the Sundance drama THE TOMORROW MAN. #movieposter #drama #sundance #endoftheworld #apocalypse #johnlithgow #blythedanner #pop #popculture #geek #nerd #movies #filmes #films #cine #cinema #cult #culture #art #tvseries #entertainment #OsFilmesdoKacic
THE TOMORROW MAN #JohnNobles #TheTomorrowMan #JohnLithgow #BlytheDanner #DereckCecil #KatieAselton #UpComing #Independent #Sentimental #Romance #SundanceFilmFestival #2019 #Cinema #Films #Director #Comedians #Actors #Cool #Movie #Posters
#LeeMinHo #TNGT #TheTomorrowMan 2015 Spring Sumer Collection.
John Lithgow at the Sundance Film Festival for his film The Tomorrow Man ☕️ ⠀⠀⠀⠀⠀⠀⠀⠀⠀ #JohnLithgow #TheTomorrowMan #SundanceFF #ViewpointPR
We aren't just about today,we live for tomorrow #Thetomorrowman
#LeeMinHo #TNGT #TheTomorrowMan "Today'N Going On Tomorrow" 2015 Spring Collection.
Excited to announce two Sundance Premieres for 2019 - The Tomorrow Man and Native Son! Park city here we come! • • • • • #indiefilm #indiefilmmaker #indiefilmmaking #sundancefilmfestival #sundance2019 #sundancepremieres #nativeson #thetomorrowman
#1. The Tomorrow Man John Lithgow, Blythe Danner #2. Velvet Buzzsaw Rene Russo, Jake Gyllenhaal #movies #poster #velvet #buzzsaw @netflix #production #cinematography #photography #art #sensation #story #nightcrawler #2019 #loveformovies
Scenes from the movie The Tomorrow Man, starring John Lithgow and Blythe Danner were filmed at Pittsford Auto Service. #johnlithgow #blythedanner
#JackedKirby - Pencils, Inks and Color... ✏️✒️??? Thanks to a fellow Kirby lover Patrick Ford over on Facebook I found these beautiful penciled and inked pages from #Issue101 of Journey Into Mystery (published in February of 1964). Patrick was highlighting how faithful the inks on the page (pic 2) were to Kirby's original pencils (pic 1)... and I have to agree they are pretty exact!!! ✏️✒️✏️✒️ The inked on this book is the great George Roussos aka George Bell (a pseudonym Roussos sometimes used) who is responsible for inking some of the most important books in Marvel History like FF #Issue21 (The Hate Monger Issue) and Avengers #Issue4 (the Return of Captain America!) alongside Jack! He was a staple of the Marvel bullpen, doing steady inking and colorist work for the company from the 1939 to his death in 1995 (for other comic companies as well, not just Marvel). Roussos, or "Inky" as he was aptly nicknamed (probably by Stan... ughhhh) was known for being able to produce some of the most faithful black lines to the original pencils in the industry! ✏️✒️✏️✒️ This tale features Thor as he battles a minion of Loki's from the future... Zarkko The Tomorrow Man!!! He has come from the 23rd century to battle Thor, and he brought a giant robot with him! This page illustrates the arrival of Zarkko and his minion. ✏️✒️? Look how perfect Roussos captured Kirby's original intended art... it's breathtaking! I also included the colored page (pic 3) so you can see the final results. Everyone always throws out the names Sinnott, Royer and Ayers when discusses Kirby's best inkers... I would like to see Roussos get some love too!!! ✏️✒️✏️✒️?? #JackKirby #KingKirby #Kirby #GeorgeRoussos #GeorgeBell #Inking #Pencils #JourneyIntoMystery #Thor #Loki #Zarkko #TheTomorrowMan #Comic #Comics #ComicBook #ComicBooks #60sComics #ComicsOfThe60s #Inky #comicbookart #igcomicfamily #igcomics #igcomiccommunity #igcomicbookcommunity #comics
#art #fineart #fineartist #artstudio #mural #muralart #muralpainting #rochesterny #thetomorrowman
One day to go! #sundancefilmfestival #premiere #soundtrack #johnlithgow #blythedanner #noblejones #film #ecclestheater
My Natalie's!!!#thetomorrowman
The Tomorrow Man: Trailers and Videos
Spider-Man Far From Home Trailer CONFIRMED For Tomorrow
We Believe: The Best Men Can Be | Gillette (Short Film)
The Score - Unstoppable from SPIDER-MAN INTO THE SPIDER-VERSE
Superman: Man of Tomorrow Trailer
*NEW* Fortnite Is About to Get CRAZY... (EVERYTHING in Tomorrow's Update! V7.21)
Asuka punches Becky Lynch during heated confrontation: SmackDown LIVE, Jan. 22, 2019
Premieres: The Tomorrow Man
Creepy Old Man Was Harassing Me
Spider-Man: Far From Home | Teaser Trailer
Man does not want Link to see the nice weather tomorrow
[Rocksmith 2014 Custom] Bury Tomorrow - Man On Fire (Lead)
TRANSGENDER MAN CHASING US | Pakistan Vlog
Man Of Steel - Save Me
EYE AIYEKOTO | Showing Tomorrow on OkinTv 2pm
HELLO NEIGHBOR BUT MY NEIGHBOR IS NOT HITLER - Who Is This Man
We Believe: The Best Men Can Be | Gillette (Short Film)
Superman: Man of Tomorrow Trailer
Spider-Man: Far From Home | Teaser Trailer
Swatted My Neighbor But He Really WAS Hitler - Who Is This Man
Superman: Man of Tomorrow Trailer
Asuka punches Becky Lynch during heated confrontation: SmackDown LIVE, Jan. 22, 2019
984: PRISONER OF THE FUTURE | The Tomorrow Man | Stephen Markle | Full Length Sci-Fi Movie | English